Harbours Master's office - +33 (0)4 94 01 55 81
capitaineriebormes@ycibm.fr
Provides year-round supervision, supplies, radio and telephone contact.

Carenage zone (5.500 m2) - +33 (0)4 94 01 55 82
bormescarenage@ycibm.fr
Equipped with a 50 ton travellift.
Do not forget
Before mooring your boat, please come to the Harbourmaster's office with your ship's papers and a valid insurance certificate.
Mooring advices
The custom is to moor the boat stern to dock. If you choose to moor it bow to dock you must absolutely install a bridle. The anchorage to be struck on the bow of the vessel is moored to the pontoon at the starboard ring. This is the property of the port. You must not modify it (placing of buoy, making of knots): it is up to you to protect it against raging. In case of breakage of the anchorage, following excessive raging, your responsibility will be incurred.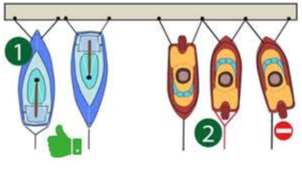 Diverse information
* Parking: The two car parks located at the entrance of the port are regulated and chargeable, please contact the municipal police.
The sea wall parking is regulated and chargeable : access is done with a card issued from the Harbourmaster's office against a deposit (identity card, passport or driving licence).
Warning: Parking of more than 6 hours on the sea wall is forbidden from the 1rst of October until the 30rd of April.
* Slipway: It is regulated. Please contact the Harbourmaster's Office for schedules and terms of access.
* Crane: please call +33 (0)4 94 01 55 82
* Water: The water distributed on the docks is potable. The connection is made with a quick connection (type GARDENA). To avoid any waste, we ask you to use a water gun (by-law of 23-01-1990) and to adopt a reasoned consumption.
* Electricity: The electric current provided by the electrical bollards is 220 V. The extension, which connects the boat to the dock has to be single and must not exceed 25 meters. The electrical cable has to be an H07 type and the plug has to be European standard.
* Sanitary installations: An access card for the sanitaries is sold 8 € at the Harbourmaster's office. This card is valid for a year and can be used for the next year after a new validation.
* Holiday extensions: The berth rented has to be free by midday. Any holiday extension has to be asked at the Harbourmaster's office. A non authorized holiday extension will involve:
The towing of the boat which costs 73 € to release the berth.
An invoice for the night spent in the Harbor.
* Police rules: They are visible at the Harbourmaster's office.
The Harbourmaster's office is at your disposal to facilitate your stay.
Please feel free to contact us for any question (wifi, laundry, etc.).